Our pupils are the most important members of our school community
Elmhurst's School Council includes pupils from Years 1 to 6 who have been elected by their peers and teachers to represent the views of their class. Elmhurst's Head Boy is also a member of the council.
Boys who wish to be considered for the role of class representative, deliver a short speech to their class at the beginning of the year, about why they think they would make a good councillor.
The School Council meet every Monday to discuss action points and to raise ideas for new school initiatives. Examples include establishing an Eco Warriors group, where boys meet to focus on how the school can take action to improve it's attitude and efforts on environmental matters.
Alongside school council, we use an online survey to enable us to capture and track genuine pupil views. Pupils in Years 2 to 6 complete this survey annually and the results inform decision making and prioritisation in the school, with all staff involved in reviewing the findings.
Pupil voice plays a key part in our school development planning, ensuring that we continue to be effective in meeting the needs of those most important to us. That impact was seen at work in4 Autumn 2021, the school unveiled a new playground surface in response to the concerns raised by pupils about the previous space.
Pleasingly, recent survey results highlight the boys' enjoyment at school as a result of the strong relationships they have with school staff and their peers, the high standard of teaching and the progress made in the classroom. The boys feel well supported by their teachers and are encouraged to work hard and find their brilliance.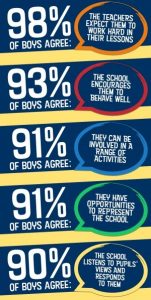 Pupils were also given an opportunity to offer suggestions for how the school could be improved. The most common suggestions were as follows:
School lunches
Playground equipment
The results have been shared informally with the pupils and we have already begun to discuss some changes based on their feedback and ideas.
Watch a short video of the Upper School and Lower School's School Councils, discussing ideas for changes to playground equipment: